India's british Educational policy creates Servants!!
Narendra Modi: "We need changes in the english education system that created the working class". The british introduced the education system in india to create a working class that catered to their needs; A lot of change is needed in that," prime minister Narendra Modi said, according to 'Dinamani' daily.
A 3-day conference on the implementation of the National education Policy began in varanasi on Thursday. Inaugurating this, prime minister Moti said: "Education system in india was created only to provide jobs. Britishers during their rule introduced an education system in india to create workers who would do jobs for them. After independence our education system has changed a little. But there are still many changes to be made.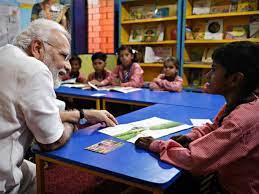 We need to change our education system to produce the human resources needed to take the country on the path of development. The National education Policy has created opportunities for education in indian languages. I firmly believe that india will emerge as the educational center of the world," said the news. 
The prime minister said although the NEP was implemented about two years ago, his government had been working diligently for its proper implementation. He personally attended many seminars and events to talk about the issue. The NEP had opened up ways for pursuing education in the mother tongue. Ancient indian languages like sanskrit were also being carried forward.
The event was attended by over 300 academic, administrative and institutional leaders, including Uttar Pradesh governor Anandiben Patel, chief minister Yogi Adityanath and Union education minister dharmendra Pradhan.
మరింత సమాచారం తెలుసుకోండి: