Govt upgrades mukesh Ambani's security cover!!!
The security cover of mukesh ambani, the famous businessman and head of reliance Industries, has been increased. Till now mukesh ambani was being given Z security. Now they will be given Z + Security. Now 58 soldiers will be deployed for the security of mukesh Ambani. It is also important to mention here that mukesh ambani himself pays whatever expenses are incurred for the security cover. About 40 to 45 lakh rupees are spent every month on so many soldiers. The Union home Ministry has taken this decision after Ambani's life was threatened.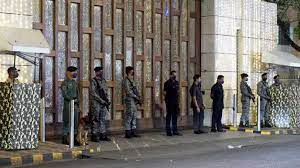 Recently, the Intelligence Bureau had said that mukesh ambani is in danger. Let us also tell you that last year there was a sensation after a suspicious car was found outside Antilia in Mumbai. For a long time, the central government was considering that the security of mukesh ambani should be increased. Now according to the new decision, 58 soldiers will be posted 24 hours a day for the security of mukesh ambani and his family.
Ambani's security
Z Plus security is the highest level of security in India. Under this, there are 6 security levels. These people work in two shifts. These include NSG and army personnel. These soldiers specialize in arts like martial arts. Now, apart from the number of guards, mukesh ambani has 15-20 personal security guards cum bouncers who are always present with him without weapons.
In june this year itself, a petition was filed in the Tripura high court demanding that the security of mukesh ambani be withdrawn. On this, the supreme court dismissed the petition. The central government had then said that this matter is not of any state. Let us also tell you that it was decided to give Z security to mukesh ambani for the first time in the year 2013. Then the terrorist organization Hizbul Mujahideen threatened him.
మరింత సమాచారం తెలుసుకోండి: