Assam is in the grip of floods. There is only water on the roads. Relief work has become difficult. In such a situation, a video is coming out on social media in which a father is seen crossing a road filled with water with his newborn baby in a flood-affected area. Although the father may have to walk in waist-deep water in silchar, assam in the midst of floods, but even in such a dire situation, there is a glimpse of a smile on his face. His smile is winning the hearts of people. Sharing this video, a user on social media platform twitter also compared it to Vasudev, who crossed the yamuna carrying Lord krishna on his head.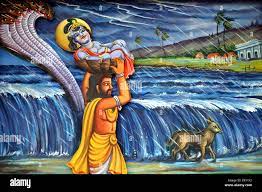 She wrote in the caption "Heart touching picture from silchar battling floods! This video of a father crossing water with his newborn child in silchar is reminiscent of Vasudev crossing the yamuna river. In fact, every day is Father's Day!" Significantly, due to the devastating floods in assam, more than 47 lakh people have been affected in 32 out of 36 districts. Apart from this, more than 80 people have died in floods and landslides in the state.
Union home minister amit shah called chief minister Himanta Biswa Sarma twice yesterday to know about the situation. As the flood situation worsens in the Barak Valley region of the state, the railways will run special relief trains in the area. While one lakh liters of fuel will be airlifted. Apart from this, more teams of National Disaster Response Force (NDRF) are being sent to the area.
https://twitter.com/SashankGuw/status/1539088979814801408?ref_src=twsrc%5Etfw%7Ctwcamp%5Etweetembed%7Ctwterm%5E1539088979814801408%7Ctwgr%5E%7Ctwcon%5Es1_c10&ref_url=https%3A%2F%2Fwww.indiatimes.com%2Fhindi%2Ftrending%2Fassam-floods-heartwarming-picture-of-father-of-newborn-in-waist-deep-water-goes-viral-572781.html
మరింత సమాచారం తెలుసుకోండి: