Problem due to prabhas with Suriya..!?

Prabhas, who became famous worldwide with the movie Baahubali, is currently in the making of an animated movie called Adipurush. A few days ago, the teaser of this film was released amid huge expectations. It was trolled by fans as it was said to be a 3D animation and looked like cartoon scenes for children. After this, the film received many negative reviews before its release. And the fans were openly saying that the release of the film will not earn the expected amount.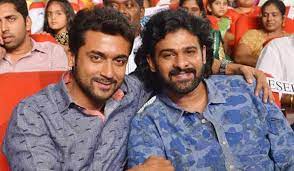 This is the thing that has created problems for Suriya's current film. Suriya is currently busy acting in Siruthai Siva. In the recently released motion poster of the film, it was announced that the film will be made in 3D. It is this matter that fans are currently portraying differently in Social India. In other words, Suriya's film is also being made in animation mode just like Adipurush. So, some people on social media said that the film will definitely not be well received.
This caused a flood on social media. And Suriya's fans are saying that Prabhas' Adipurush is the reason for such a thing to spread and his fans are the ones who have done such work.
After this matter became controversial, many people in the film world are questioning whether this is an animated film. But actually, it is being made only in 3D mode and not an animated movie, says the team.
మరింత సమాచారం తెలుసుకోండి: