In the pre-release event that happened yesterday, pawan kalyan took down the YSRCP government and warns them for bossing around. 
Sai Dharam Tej's upcoming movie 'Republic' had its pre-release event. power star pawan kalyan was asked to be the chief guest of the event who graciously accepted the invite. Speaking at the event, pawan kalyan slammed the YSRCP government and called them out for bossing around the tollywood industry.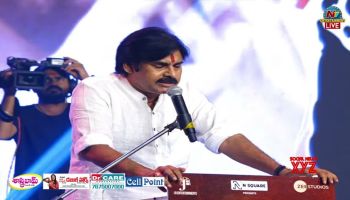 He said "why is the government bullying around the film industry which functions by private investments? This is not YSRCP republic, this is indian republic. We don't see caste, creed or religion. Our industry is already facing lots of issues. I won't tolerate if we continue to be targeted".
He also added "If you have problem with me, target my movies. Leave alone other movies. We won't survive if we are afraid of rowdies. Tell industry people like chiranjeevi to not beg but fight strongly against the government about our rights." He also accused that ap government is planning to sell tickets 'cause it doesn't have money.
Republic movie starring Sai Dharam Tej, aishwarya rajesh and ramya krishnan is getting released on october 1. Pawan Kalyan's Bheemla nayak is expected to be released for sankranti 2022. 
మరింత సమాచారం తెలుసుకోండి: