Bangarraju: naga Chaitanya's career's best Opening..!

King Nagarjuna- Nagachaitanya starrer `Bangarraju` is the only big movie released in Sankranthi Bari. Despite the short films in the competition, everyone's focus was on Bangarraju. On the first day of the movie's collection, all details have been revealed as all the fans and critics were waiting for what it will get in box office collections.
 It is learned that Bangarraju movie has joined hands with his career-best pre-release business. This worldwide pre-release business is said to be in the range of Rs 39 crore. While the net collection of this movie was expected to be around Rs 45-50 crore. The Bangarraju team announced that the film had grossed over Rs 17 crore on its first day. The film Bangarraju crew hailed the festival as a blockbuster. The departure of Pan indian films rrr and Radheshyam from the festival race was a big plus for Bangarraju. Other medium-budget movies have been released but they are not in competition with Nagarjuna.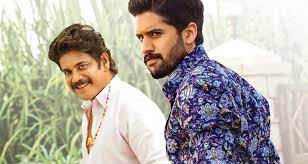 If Bangarraju's worldwide pre-release business was to make a comeback for Rs 45 crore, the film will have to make a comeback with the same spirit in its first week. It is nagarjuna and Chaitanya's career-best opening day gross. The first weekend is expected to see the same spirit.
Omicron and corona cases are on the rise across the country. More Cases are being reported in telugu states as well. Due to the increasing number of covid cases, a 50 percent seating rule has been imposed in telugu states, and also the lack of flexibility in the Andhra to raise ticket prices on the other hand is the big minus. It is said that nagarjuna expressed confidence that ticket prices in the ap would not affect his film. 
మరింత సమాచారం తెలుసుకోండి: