Anjali Arora: Amidst the news of MMS, Anjali's song created a buzz, 'Saiyaan dil Mein Aana Re' got so many views
Raw Badam girl anjali Arora has been in the news for her MMS videos for the past few days. It was claimed that anjali Arora is in this video going viral on social media. At the same time, anjali had told the wrong of this video. In the midst of all this, anjali Arora's new song 'Saiyaan dil Mein Aana Re' was also launched, which is getting a good response from the audience and the song is trending on YouTube. Now anjali has shared a post on social media about the love she is getting for the song.
Anjali Arora's new song 'Saiyaan dil Mein Aana Re is a remake of the song from the 1951 film 'Bahaar'. vyjayanthi Mala was seen in the original song. At the same time, Shrenu Rane has lent her voice to the remake song of anjali Arora. Anjali's dance in the song is also being liked a lot and it is trending on YouTube. Also, the song has got more than five million views in 48 hours, for which anjali has thanked everyone by sharing her instagram story.
Anjali said, 'Thank you so much from the heart for giving so much love to my song Saiyan dil Mein Aana Re. The song has garnered over 5 million views within 48 hours and is trending all over India, so keep giving it more love like this.' Let us tell you that this song is trending on YouTube at number 8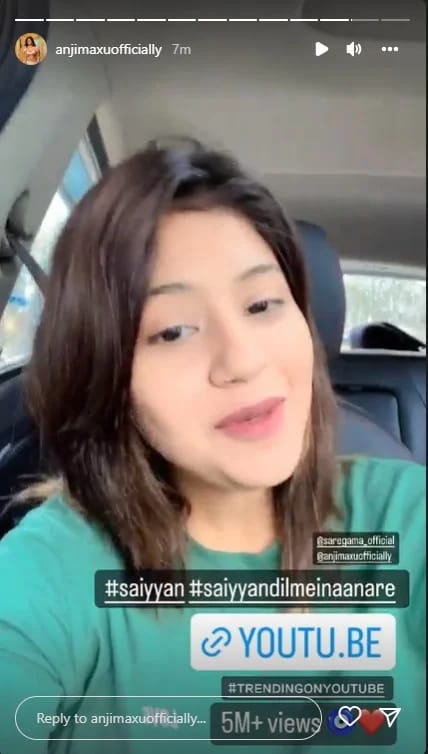 Talking anjali Arora, she is a social media influencer and has also been a part of kangana Ranaut's show 'Lockup'. Recently, anjali broke her silence about MMS and said that I do not know what people are doing, or why are they using my photo and name. I too have family, younger brothers and sisters, who are watching all this. Those who made me are defaming me, while I am not in that video. anjali became emotional while saying these things.
మరింత సమాచారం తెలుసుకోండి: