Ajith saluted a security guard at the airport...!? Ajith's mass video..!

Actor ajith and actress manju warrier including the team of Thunivu left chennai early today for bangkok by flight. Actor Ajith's 61st film Thunivu is directed by H. Vinoth. The film also stars Samuthirakani, Manju Warrier, and Veera alongside Ajith. The shooting of the film has not taken place for the past month. At that time, in North India, actor ajith was riding a bike with his friends. Actress manju warrier also joined in this bike trip and looked great riding the bike along with AK Ajith.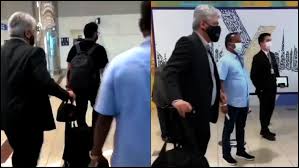 The team was planning to shoot the final part of the film in bangkok, with most of the shooting of Thunivu wrapped up. The shooting of the film was also hampered, due to the delay in making arrangements for this. The crew has gone to bangkok today, now that all the arrangements have been completed.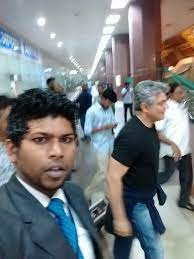 For this, early this morning, the Thunivu film crew went to bangkok by flight from Chennai. Then the photos and the viral videos taken by actor ajith and actress manju warrier was shared by many when they appeared in the airport. ajith also took pictures with many airport staff and fans.

In one particular video as a female employee checks his ticket, we can see actor ajith is entering the airport. The video shows actor ajith saluting a security guard who was standing behind the woman and then walking away. The video is going viral and trending on social media.

మరింత సమాచారం తెలుసుకోండి: