Rajini didn't give up his status..!? dhanush Market collapse..?

Rajinikanth is currently acting in Jailer directed by Nelson. The film is produced by sun Pictures. And the shooting of Jailer is going on briskly. Rajinikanth has been working hard to give a hit film as the film Annaatthe which was released got mixed reviews. But for a few years, Rajini has been suffering from some kind of depression. The reason is his elder daughter Aishwarya. Recently, the news of dhanush and Aishwarya's divorce broke out on the internet.

As the problem between dhanush and aishwarya escalated to the point of divorce, no matter how much Rajini engaged in negotiations, it was not resolved. Relatives and fans tried to keep both of them together. But they were firm in their decision. But dhanush suffers from the affection of his children. This is why this couple has come together. That means Rajini, dhanush and aishwarya have spoken together.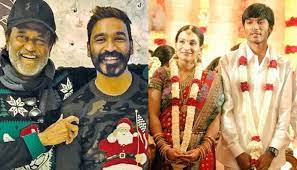 Rajini has given some advice to both aishwarya and Dhanush. Hearing this, dhanush changes his mind. Apart from that, dhanush has told his uncle that there will be no more problems like this. aishwarya also agreed to this. This problem, which was a big headache for Rajini till now, has now been resolved smoothly. Also, soon there will be an announcement that dhanush and aishwarya will live together. dhanush and Rajini fans are happy to know this.
మరింత సమాచారం తెలుసుకోండి: