Online rummy suicides continue..!? A student died..!?

A college student from Malayandipatti near Manaparai in Trichy district has caused a shock by committing suicide due to online rummy. The government of tamil Nadu said that the Emergency Act will be implemented soon after getting the Governor's approval. The high court had already struck down the law banning online rummy passed in the previous AIADMK regime. Accordingly, the tamil Nadu government has drafted a bill to bring a new law after hearing the opinions of experts and the public. In this regard, the tamil Nadu cabinet meeting chaired by chief minister Stalin was attended by ministers including Duraimurugan, Chief Secretary Thaoyanbu, home Secretary Panindra Reddy, and Public Sector Secretary Jaganathan. A cabinet meeting has approved an emergency law to ban online gambling games including online rummy.

Moreover, due to the demon of online rummy in tamil Nadu, incidents of ruining families such as murder, robbery, and suicide have increased day by day in tamil Nadu. It is a matter of concern that an increasing number of people are falling into the underbelly of the underworld in the hope that they can make money at the crossroad. Cases of taking money and taking lives in online rummy games are becoming a regular story in tamil Nadu. Especially the young generation who are supposed to enjoy the spring of life are resorting to the perverse end of online rummy. ravi hails from Malayandipatti near Manaparai.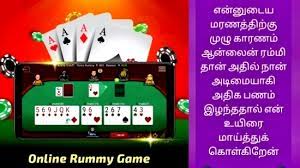 His son Santhosh (22), who works at the bicycle stand at the bus stand, is studying 4th year engineering at a private engineering college near Manaparai. A college student engrossed in online rummy games went home on the 4th with no money to spend.Also, a college student who defied his parents' objections and left home with a 2-gram ring and cash, lost it all in online rummy. Frustrated by this, Santosh, an engineering student, committed suicide by running over a train at Manaparai Kearai Garden, with a suicide status on his cell phone. The railway police went to the spot after receiving the information, recovered the body of the college student who committed suicide by jumping on the train, and are investigating. The incident of an engineering college student drowning in online rummy and committing suicide by jumping in front of a train in desperation has shocked the area.
మరింత సమాచారం తెలుసుకోండి: