aditya chopra got angry on rani Mukherjee's intimate scene with Shahrukh, karan johar revealed
Recently, filmmaker karan johar recalled his fight with aditya chopra over Shah Rukh Khan and rani Mukerji's intimate scene in the film Kabhi Alvida Na Kehna.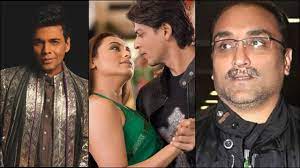 bollywood filmmaker karan johar has made many memorable films in his career so far, one of which is 'Kabhi Alvida Na Kehna', which was released in the year 2006. Shah Rukh Khan, rani mukherjee, preity zinta and abhishek bachchan were in lead roles in this film. Shah Rukh and rani were presented in the film as cheating on their partners. However, producer aditya chopra did not like Shahrukh and Rani's intimate scene shown in the film and there was a fight between Aditya and karan about this, which has been revealed by karan himself.
podcast recalled his fight with Aditya Chopra. He told that Aditya was afraid that the indian audience might not accept this sequence. Talking about it, karan said, "I was shooting that sequence and I was at this big location which was covered with snow and Adi called me. Aditya said, 'Listen, I've been shooting for the past few days. Been thinking about it since days and it is coming again and again in my mind. I don't think there should be bold scenes between them. I think india will not accept it. They should think about it and take a step back Needed.''
karan further said that he had denied Aditya's point of view, saying, "I was like, 'No, I'm going to do it. How can you be in a relationship and not have sex?' Much later, when I thought about it, I realized that he (Aditya) was right. Not optically, but commercially right. I think the country would have accepted this love story more, if They would not have gone ahead with the physical relationship.
Earlier, in the year 2016, karan had said that if he could go back in time and change one film, it would be 'Kabhi Alvida Na Kehna'. He had said that as a filmmaker he had few regrets about the flawed film. He also accepted his mistakes and said that he tried to do something new, interesting and different. rani mukherjee Love Story: In the first meeting,
మరింత సమాచారం తెలుసుకోండి: