No one escapes the table, according to Chapter 4 of john Wick. The deadliest assassin, however, has a lengthy history of killing people both inside and outside of retirement, and now he intends to put a stop to him once and for all. Wick (Reeves), who is determined to escape the high table, swiftly realises that he must accomplish so by any means necessary. In the most recent chapter, john battles a brand-new, formidable foe in both known and unknown locations. And these past allegiances swiftly shift towards a road of enemies when his trip drives old pals to make horrific judgements.
Up until this point, viewers have witnessed Wick persevere in the face of overwhelming obstacles to live another day in the underworld. Though Stahelski and crew manage to boost the ante in this action-packed, high-stakes thriller, viewers will undoubtedly be glued to their seats. Wick has so far encountered street thugs, adversaries from his past, and lethal assassins from all across the globe. Thus it's challenging to think of a way the authors of Chapter 4 could elevate the stakes. Yet, Hatten and Finch's writing, which strikes a balance between themes like retribution, camaraderie, and survival, ensures that the tense narrative includes thrills from start to finish and organically captures the intensity of the first three parts.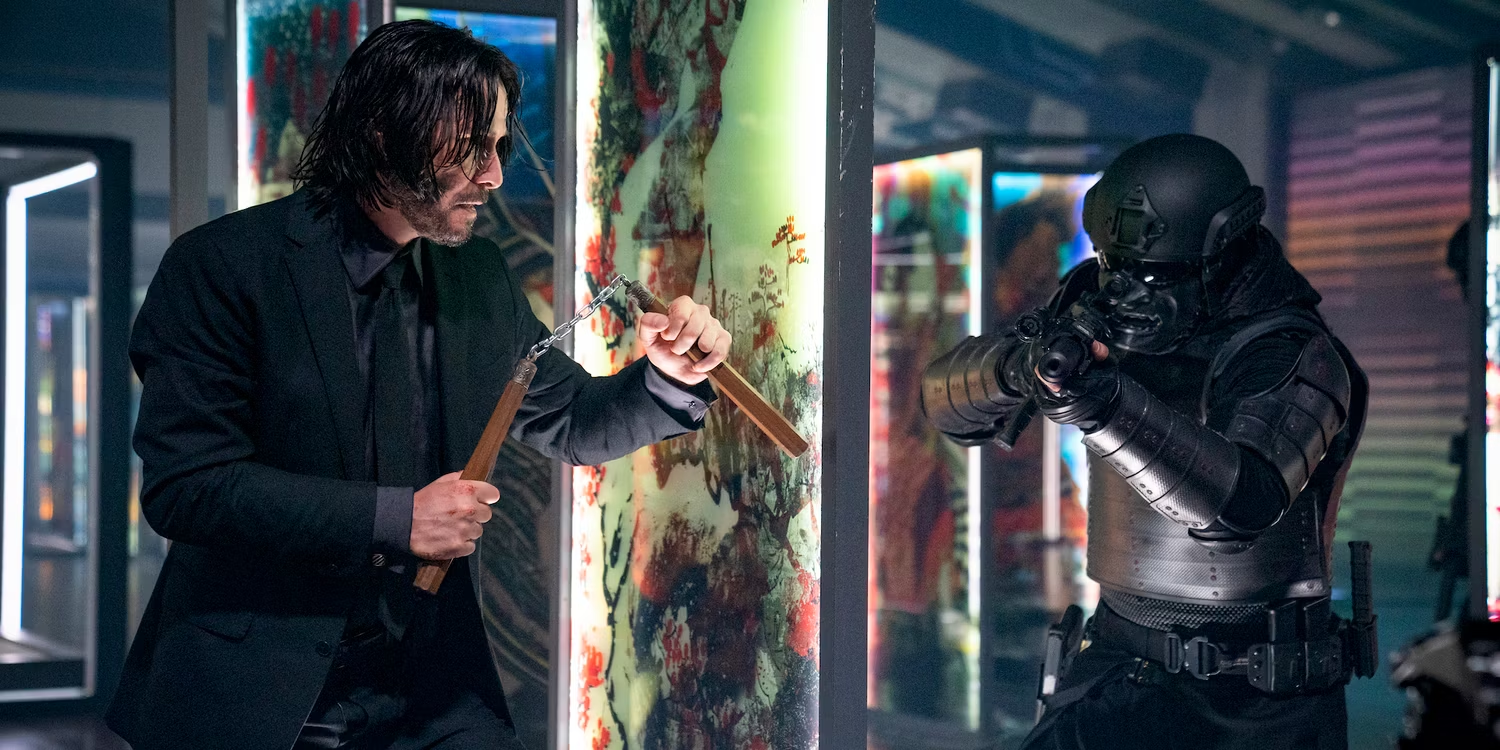 Fans of the series won't be surprised to see the Chapter 4's excellent technical elements, such as the set pieces and cinematography. Also, because of the many places Wick visits, including Berlin, Tokyo, and Paris, the fusion of the local cultures and filmmaking techniques produces a stunning impression and draws viewers deeper into the narrative. In this episode, Stahelski gets to put into practise a creative vision that seems both familiar and novel, and his directing also shines most. Also, the sound mixing and unquestionably captivating music by Bates and richard help to keep the tension while arousing the senses for a great viewing experience.
The stakes have increased along with the world-building throughout this saga, especially when new characters are introduced and returning characters are given more backstory. To that end, the script does a good job of presenting Wick's pursuers, Tracker or "Mr. Nobody" (Shamier Anderson), a bounty hunter who plays a more significant role than the typical hunter, and Marquis Vincent de Gramont (Bill Skarsgrd), a strong member of the High Table. Skarsgrd and Anderson blend in seamlessly with this diverse and skilled cast, notably in Keanu Reeves's role, who this time around really shines.
It should go without saying that john Wick: Chapter 4 doesn't exactly move quickly, especially given that it has the longest runtime in the franchise at 169 minutes. Having said that, every bloody scene, jarring sound effect, and crackling line delivery are well worth it. The assassins' tense fights have resumed their bloody splendour, as the combat choreography surpasses expectations and even manages to surprise viewers. At this stage, a big part of the enjoyment is seeing what Wick can transform into a lethal weapon. And as we've seen in the earlier john Wick films, it could be anything.
John Wick: Chapter 4 is without a doubt a fun day at the movies, packed with impressive technical achievements and scenes that will have spectators on the edge of their seats. Apart from a tiny (albeit obvious) special effects problem, the fourth installment rightfully depends on its excellent combat choreography and gory scenes to maintain its high level of excitement. 
The idea that choices have repercussions has been a recurring motif across the whole franchise. Run, don't walk, to the theatre if this is Stahelski's message to his audience about the longevity of the franchise because this is the kind of movie that can never let you down.
మరింత సమాచారం తెలుసుకోండి: