PM Modi inaugurated the largest helicopter factory...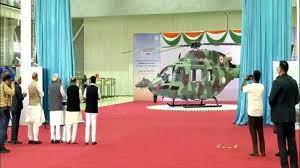 On monday in Karnataka's Tumakuru, prime minister Narendra Modi opened the Hindustan Aeronautics Limited (HAL) helicopter facility. He also showcased a light utility helicopter built at the newest factory for helicopters.
PM Modi remarked, "Karnataka has traditionally been a land of innovation and technology," while speaking at the occasion. tejas aircraft and drones are already being produced in the state. Assault rifles, aircraft carriers, and fighter jets are produced in India, we are gradually becoming self-reliant.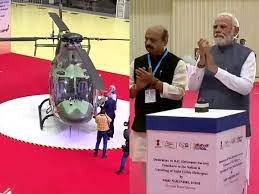 The economy of the nation will benefit from the industries in the Tumakuru region, according to PM Modi, who also stated that they are concentrating on improving connections between industrial cities. 
"Industrial area connectivity is just as crucial as their construction. 
Numerous initiatives are already underway as we concentrate on enhancing connectivity between Bengaluru, Hyderabad, Chennai, and Mumbai. There will be a big increase in employment prospects, which is great for the economy of the nation.
The opposing parties were also criticised by him for circulating false information about the HAL. 
Our administration was the target of countless unfounded claims and HAL was the subject of widespread misinformation. The parliament lost a lot of productive time because of it. HAL's Helicopter Factory and its growing influence are a response to those who made untrue accusations. 
HAL is the future of India's safety and is increasing self-reliance in the defence sector, continued PM Modi. Basavaraj Bommai, the chief minister of Karnataka, and Union minister Rajnath Singh also attended the occasion.
మరింత సమాచారం తెలుసుకోండి: