Rana Daggubati calls indigo 'worst airline'!!!
Baahubali actor rana daggubati has recently slammed the airline company indigo by tweeting one after the other. Through these tweets, the actor raised many questions regarding the arrangement of indigo airline. Along with this, he also alleged that due to the negligence of the airline, all his luggage disappeared and now no one has any information about him.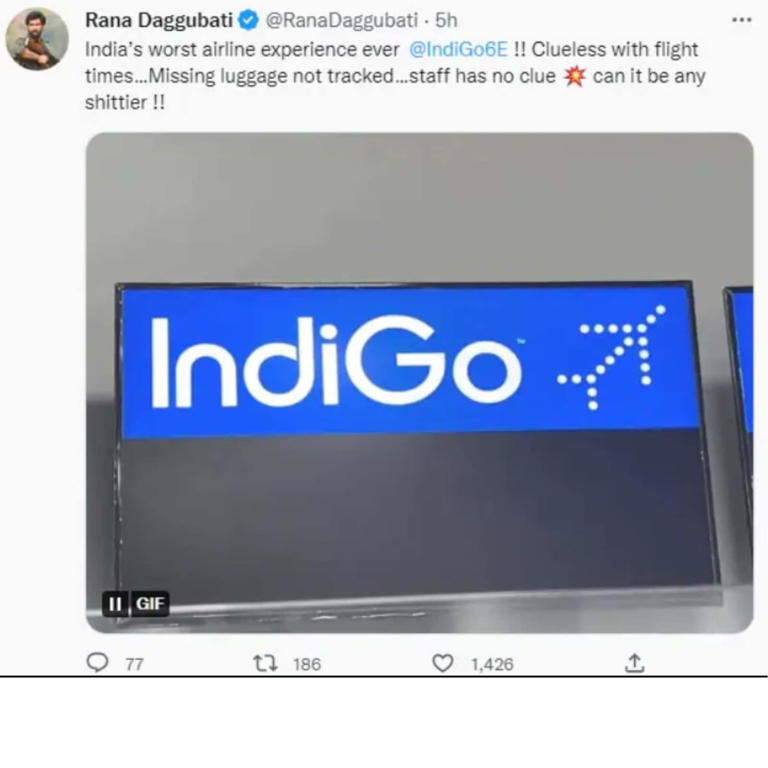 What is the whole matter?
Actually, recently the actor had made a plan to go to Bangalore with his family. However, during this time he had to go through a very bad experience at rajiv gandhi International airport in Hyderabad. It so happened that after check-in, all the people going on the flight, including the actor, were told that there would be some delay in the flight. After this, due to technical problem, everyone was shifted to another plane. It was said by the airline that the baggage of everyone present in the flight would be sent from the same aircraft. However, as soon as the actor reached Bengaluru, his luggage was missing.
At the same time, when the actor wanted to talk to the people of the airline about this, no one could give any information. What was it then, after all this, the actor took out the phone and by tweeting one after the other lashed out at indigo airline.
Rana Daggubati tweeted, 'India's worst airline experience ever indigo 6E. Flight time is not known. Nothing is known about the missing luggage. The staff doesn't even know? Can anything be worse than this?'
The actor did not stop here, apart from this, he reacted to a promotional tweet of the airline and wrote, 'The engineers may be good but the staff are clueless. You need to do everything in a proper way '.
Here, after rana daggubati expressed displeasure in this way, indigo airline immediately apologized to the actor. Retweeting the actor's tweet, the company wrote, 'We apologize for whatever happened to you. Please rest assured that our team is actively working to locate your item. We are trying our best to find your goods as soon as possible and deliver them to you immediately.
Significantly, this is not the first such case, before this actress pooja hegde has also expressed concern about the attitude of the staff from indigo airline. The actress wrote in a tweet that the indigo official spoke to her in an arrogant, careless and threatening manner without any reason. Even after this tweet by pooja hegde, the airline had apologized to her.
మరింత సమాచారం తెలుసుకోండి: