This Actress ended 23 years of married life of Vijay..!?

For the past few days, the news about Vijay has been making social media sensational. His family affair has also come under fire following the release of his recent film Varisu which received mixed reviews. That is, there is news that Vijay has divorced his wife Sangeeta and separated. The main reason for this is that his wife did not attend the music launch of the movie Varisu. Before that, Vijay had also come alone to Atlee's house baby shower. All of these add up to make this issue explode.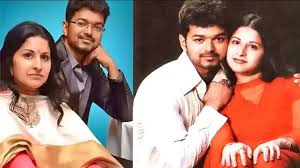 In this case, it is being talked about that Vijay and actress Keerthy suresh have a relationship. Both of them have already acted together in two films. This habit which started then has now come to the extent of Vijay divorcing his wife. Although there are many reports about this, it is now creating a storm on social media. That means many fans are trending by creating the hashtag justice for Sangeetha. Apart from that, Keerthy suresh and Vijay are also posting a picture together. While Vijay is sitting on the floor, Keerthy suresh is sitting on the couch with his legs crossed. It seems to be a photo taken during the shooting of Sarkar.
Since then they both have had a connection. When Sangeeta came to know about this, she denied reprimanding Vijay and now this matter is getting bigger. So it is expected that the official news about this issue will come out as soon as possible. Apart from this, fans are saying that some people are watching this work to spoil Vijay's fame.
Fans say that this conspiracy is happening to disable Vijay, who has now started showing interest in politics. But there is no smoke without fire and the question arises as to why Vijay is silent on this issue which is creating such a buzz. To explain this, there is a talk that he can publish a photo with his wife. Be that as it may, Vijay's married life of 23 years has set social media on fire right now.
మరింత సమాచారం తెలుసుకోండి: