Vijay - ajith clashing with chiranjeevi & Balakrishna...!?

Along with chiranjeevi, and balakrishna films, Thunivu, and Varisu are also being dubbed in telugu as sankranti specials in Tollywood. The pongal release race has reached its peak in Tamilnadu. This year's pongal release, Thunivu is slated to release on january 11. The fans of both sides are engaged in an enthusiastic celebration as two of Tamilnadu's biggest actors, Ajith-Vijay, are set to clash on this pongal after almost 8 years.

Sankranti Release:

In this case, along with the kollywood pongal release, the sankranti release is creating a sensation in the tollywood cinema as well. tollywood megastar Chiranjeevi's film and telugu desam party MLA Balakrishna's film are going head-to-head this sankranti festival.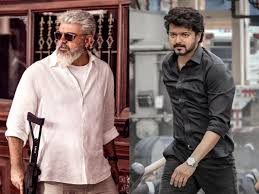 Waltair Veerayya-Veerasimha Reddy:

Accordingly tollywood mega star chiranjeevi and leading actor ravi Teja's 'Waltair Veerayya' is releasing on january 13th and Balakrishna's Veera Simma reddy is releasing on january 12th, and the tollywood circuit has started to get tired. At the same time, Vijay's Varisu film will be released in both Tamil-Telugu languages to compete with sankranti Special films. Similarly, 'Thunivu' is also released in Telugu.

Varasudu - Tegimbu:

Vijay is already number 1 in kollywood and with the help of dil Raju, he is releasing Varisu in telugu in a grand manner as Varasudu. Similarly, the Thunivu movie is going to release in tollywood with the name Tegimbu. While there is already a good market for actors Surya-Karthi, Simbu, and others in tollywood, cinema people are waiting to see if the films of Thala-Thalapathy will surpass the films of top stars this year.

మరింత సమాచారం తెలుసుకోండి: