'I have met God': rajamouli is so thrilled..!?

The rrr movie directed by rajamouli was a huge hit. The film was a worldwide hit at the box office and was critically acclaimed. Moreover, the song 'Naatu Naatu' featured in this film won the Golden Globe award recently. 'Naatu Naatu' was shortlisted for Best Original Song, beating out songs by Rihanna, Lady Gaga, and Taylor Swift.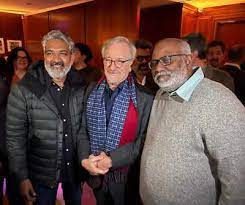 Music composer keeravani received the award for this song. rajamouli, keeravani, and junior NTR, Ramcharan jumped for joy when the award was announced. oscar star AR rahman and music director ilayaraja congratulated the entire team of the rrr film. rajamouli, who is happy with this, shared a photo of himself with world-famous director Steven Spielberg at the Golden Globe Awards on social media.

He captioned the photo as that he met God. Along with rajamouli is RRR's music director Keeravani. He also posted this moment on his social media.
In his post, he said that he had the privilege of meeting the god of movies. He told him that he liked his movies including Duel very much. He couldn't believe that he said that he likes Naatu Naatu." The recording of both of them has gone viral on social media.

మరింత సమాచారం తెలుసుకోండి: