Sai Pallavi's crazy love story..!? Shocked fans..!?


Sai Pallavi also has a love story. She likes someone. She also wrote a love letter. When her mother came to know about it, she was devastated. No one is immune to love. At some age, someone needs a flat. Beauty, quality, goodness our mind turns towards someone for some reason. sai pallavi, who plays stylish roles on the silver screen, also has a love story. sai pallavi recently revealed that beautiful love story in an interview. sai pallavi said that she started liking her classmate during her seventh-grade days.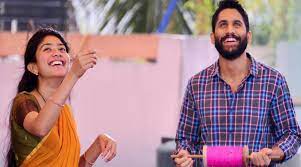 She wanted to express her love to that boy. She wrote the letter because she was afraid to say it directly. But she could not give that letter. She put that love letter in her books. Mother accidentally saw that letter. Crushed her. It was the first and last time her mother beat her. Since then she will not do anything to make Mom angry. To her, her mother was a heroine. sai pallavi revealed her love story as a role model. Sai Pallavi's comments are going viral. Recently, Sai Pallavi's movies have been cut. Sai Pallavi's last film in telugu was Virataparvam. Gargi in Tamil. In this order, sai pallavi has given up films. There were reports that she was going to get married and was ready to serve as a doctor. sai pallavi denied these reports. Waiting for good scripts. sai pallavi is what everyone feels like as a girl in their home. So the roles she chooses should be high. More fans should be entertained. Hence the delay. If she likes the story, she will make a movie in this language, she said. sai pallavi is currently doing a movie with hero Siva Karthikeyan. This project celebrates filming. sai pallavi is rumored to be starring in pushpa 2. But there is no reliable information. According to reliable sources, there is no truth in the news that sai pallavi is acting in pushpa 2.
మరింత సమాచారం తెలుసుకోండి: