Finance secretary:"Storm in a teacup" is the adani problem...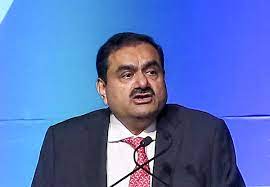 After US-based short-seller Hindenburg Research reported on alleged fraudulent activities and share price manipulation by the gautam Adani-led company, shares of the adani Group took a significant fall. In addition to calling the accusations "bogus," the company threatened legal action.
Finance Secretary T v Somanathan gave a macroeconomic perspective on the adani crisis on friday and said it was a "storm in a teacup" and that India's public financial system is stable as the situation, following a report by a short-seller alleging "stock manipulation" against the firm, took the market by storm. 
The finance ministry's highest-ranking employee further asserted that independent regulators are in place to take the necessary action and that the administration is unconcerned about the current instability in the stock market.
In addition, he addressed a query about the effects of the fraud allegations against the adani group on the financial system taking into account the exposure of banks and insurance firms to the company. "For depositors, policyholders, or anyone who owns shares in these institutions, there is simply no cause for fear in terms of financial soundness. There is absolutely no cause for fear from that perspective because the share of any one company does not have the potential to have an effect at the macro level.
మరింత సమాచారం తెలుసుకోండి: