Happy 74th Republic Day - 26th January!!!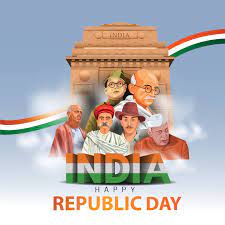 Although the Constituent assembly enacted the Constitution on november 26, 1949, january 26, 1950, was designated as the day it would go into effect. 
India's Constitution went into effect on january 26, 1950, which has become a national holiday. However, the Constitution was ready well in advance of the scheduled time, and it was formally ratified on november 26, 1949, by the Constituent Assembly.
Why then do we observe Republic Day on january 26? The history of the struggle for indian independence, which began in 1930, has a solution.
The historic "Poorna Swaraj" statement was formally promulgated on january 26, 1930, kicking off the final stage of India's liberation struggle with the aim of achieving total independence from british rule.
Republic Day in post-Independence India
January 26 was observed as "Independence Day" or "Poorna Swaraj Day" from 1930 till india eventually attained independence in 1947, with indians reaffirming their devotion to sovereignty on that day.
On august 15, nevertheless, exactly two years after the Japanese gave up to the Allies to finish World war II, india declared its independence from the British. Ramchandra Guha, a historian, said that freedom "finally came on a day that resonated with imperial pride rather than nationalist sentiment."
As a result, january 26 was chosen by leaders as the best day to declare India's new constitution. Not only did this anniversary have nationalist importance previously, but the Constitution also closely mirrored the "Poorna Swaraj" declaration from two decades prior.
మరింత సమాచారం తెలుసుకోండి: