In some places, AFSPA was extended for six months...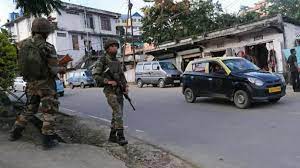 The Union home Ministry has declared parts of Nagaland and Arunachal Pradesh as disturbed areas under the Armed Forces Special Powers Act (AFSPA) 1958. AFSPA has been extended for 6 months in these areas. The Ministry of home Affairs also issued two separate notifications regarding this on Friday. AFSPA has been implemented in Tirap, Changlang and Langding districts of Arunachal Pradesh and Namsai, Mahadevpur and Chaukham areas of Arunachal Pradesh bordering the state of Assam.
AFPA has been implemented in Dimapur, Niuland, Chumukedima, Mon, Kiphire, Noklak, Phek and Peren districts and Khuzama, Kohima North, Kohima South, Jubja and Kejocha police stations in Kohima district in the state of Nagaland.
What is AFSPA law?
The Armed Forces Special Powers Act was passed on 11 september 1958 after seeing the growing influence of separatist activities in the North-Eastern states. There is a provision under the constitution that AFSPA can be invoked to maintain law and order in disturbed areas. However, there is a Disturbed Area Act to declare a disturbed area or troubled region.
What rights do security forces get under AFSPA?
On May 22, 1958, this act came into force in the North Eastern states. Some privileges were given through this act in disturbed areas. This act gives unlimited powers to the security forces in some cases. Security forces can check anyone without any warrant and can search for anyone's whereabouts. This act gives power to the security forces they can destroy any suspicious targets on the basis of mistrust.
మరింత సమాచారం తెలుసుకోండి: