Ajith is in despair after seeing the promo of Vijay's Leo..!?

The title and promo video of Thalapathy 67, the much-anticipated film directed by lokesh kanagaraj and starred by actor Vijay, has recently been released on the internet. Titled Leo, Bloody Sweet, the promo video crossed 10 lakh views within hours of its release and is currently reaching over 2 crore views. The promo video showcases Vijay's chocolate factory making chocolates during the day and the sword on fire at night. Since it is a Pan india movie, the title of the movie has been released in english as Leo. It is being reported that Vijay is going to roar like a lion in the film, based on the fact that Leo means lion.

While the film to be made under the direction of lokesh kanagaraj is creating great expectations, there is a doubt whether actor Ajith's AK 62 will be made or not, due to Ajith's decision. While vignesh shivan was going to direct the film AK 62, suddenly the news of Vignesh Shivan's withdrawal from the film became sensational. Initially, it was reported that vignesh shivan was dropped because ajith did not like the story told by him. But now there are reports that ajith has said that the story told by vignesh shivan is so big that he can make it into a film later and also that ajith is aiming to release AK 62 by Diwali.
In this case, AK 62 is expected to be directed by director Magizh Thirumeni, but now it is in a tug of war on whether he will direct the film or not. Apart from this, ajith is said to be a bit stunned after watching the promo of Vijay's Leo. Currently, the shooting of the movie Leo has started, and it is reported that the movie will be released by diwali this year.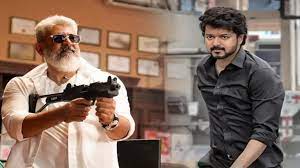 By then, ajith has decided to go on a world tour before preparing the story of AK 62 and shooting it. It is worth noting that ajith is ready for the world tour before starting the film, as the fate of AK 62 is not known at the moment, as he has already planned a world tour after AK 62.
మరింత సమాచారం తెలుసుకోండి: