Alia Bhatt's baby name has a beautiful meaning...!

Ranbir Kapoor and alia bhatt, who got married last april, tied the knot last November. A cute baby girl was born on the 6th of this month. The couple confirmed this on their instagram page on the same day. The wedding of alia bhatt and ranbir kapoor was held in a grand manner on april 14 this year in Mumbai. Last June, alia bhatt announced her pregnancy.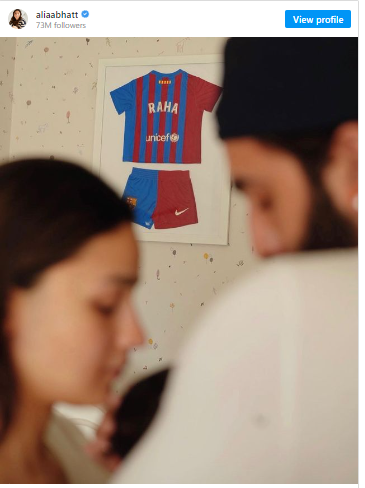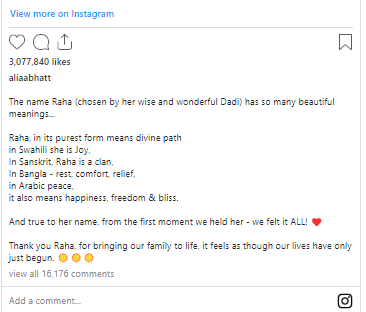 In this case, alia bhatt has posted on instagram about the name they have given to her baby girl and its meaning. She named her child Raha. She also said that this name was chosen by Ranbir Kapoor's mother Neetu Kapoor. she said that the baby's name is 'Raha' in her instagram post which has many beautiful meanings. It was chosen by the child's wise and wonderful grandmother. Raha meant a divine path which is the purest form. In Swahili, it means happiness, in sanskrit Raha is a clan, in Bangla - Respite, consolation, and removal of grief. In Arabic, peace. Also means exaltation, happiness, freedom, and bliss.All this applies to her.
All these they felt the moment they picked her up. Thank you Raha for bringing their family back to life, it feels like their lives have just begun. alia bhatt will soon be seen in hollywood in heart of Stone. Apart from this, alia has several films lined up. alia has released 4 films this year alone. RRR, Gangubai, Brahmastra, Darlings, and other films were released. Darlings were released directly on Netflix and co-produced by alia Bhatt.
మరింత సమాచారం తెలుసుకోండి: