Internet on Fire: Hot boss lady looks Glamorous!!!
Hina Khan's flawless sense of style continues to enthral admirers and establish her as a true fashion icon. Her continually alluring personal fashion choices inspire her passionate fan following. Hina effortlessly raises the bar for fashion with her flawless fusion of class and modern trends. She dazzled the camera with a gorgeous outfit for a recent picture shoot, a striking bright yellow pantsuit combined with a chic bralette set that had fans in awe. Hina's instagram caption, a straightforward yellow heart, perfectly matches the energetic vibrancy of her look and oozes her contagious optimism.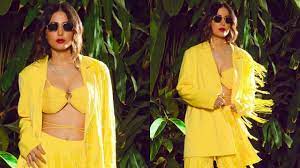 Hina Khan is pictured in a stunning outfit from the illustrious designer apparel line Nirmooha for the photo session. The Lemon Yellow Oversized Blazer and Pants, which feature painstakingly hand-embroidered tassel fringes, are the collection's outstanding items. This seductive outfit is unquestionably a wonderful addition to any party wardrobe this season. Hina's selections in clothing demonstrate her ability to subtly make a statement and have an impact on the fashion industry.
Hina Khan's lemon yellow blazer becomes a true statement piece under the skillful direction of famous stylist sameer Katariya. The blazer's full-length sleeves, open front, padded shoulders, relaxed roomy silhouette, and notch lapel collars all contribute to its fashionable appearance. The blazer has a single button closure and is adorned with hand-embroidered tassel accents on one side to add a sense of sophistication. It skillfully blends modern flair with refinement.
మరింత సమాచారం తెలుసుకోండి: