PM Modi crushes rahul gandhi in Parliament-Part5...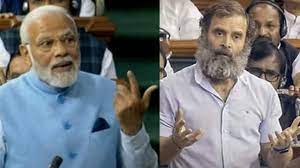 Continuation of Part 4...
10. 10 years of UPA will be remembered for terror attacks
PM Modi said, those ten years of UPA (from 2004 to 2014) will be remembered for terrorist attacks in every corner of India. The nation experienced turmoil from Kashmir to the Northeast.  In those days, there was information everywhere that do not touch unknown things. 
11. Some people just made allegations in 9 years
PM Modi taunted the opposition parties that some people only made allegations during the last 9 years. I kept waiting that someone would come after making preparations. Will criticize with facts. But instead of criticizing, he wasted 9 years in making allegations. If you lose the election, abuse the EVM and the election Commission, blame it... If the decision is against the court, blame it. If corruption is investigated, abuse the investigating agencies. Doubt success, accuse. He said, I had hoped that the people of the country and the election results would definitely bring such people (opposition) on a single platform, but this also did not happen. 
12. My armor is 140 crore people, it will not be pierced by abuses and lies
PM Modi counted the works done for the people of the country and said, your abuses and your allegations will have to pass through these crores of Indians. Some people are engaged in destroying a lot for themselves and their families. Modi is living for the family of 140 crore people. These 140 crore people are my biggest security shield. You cannot distinguish it from abuses and lies. PM said, Modi is not trusted by the headlines of the newspaper, nor by the shining faces on TV. The people of the country have faith in Modi only when I have spent my life, every moment.
మరింత సమాచారం తెలుసుకోండి: