Happy Jadeja with PM Modi..!

Sharing a photo with the prime minister, ravindra jadeja called it a much-needed compliment. indian all-rounder ravindra jadeja shared a photo on twitter of his meeting with prime minister narendra modi during the fourth Test against australia in Ahmedabad. prime minister Narendra Modi's praise is much needed, he captioned the photo. It is noteworthy that prime minister Modi attended the first day of the Test match along with Australian prime minister Anthony Albanese.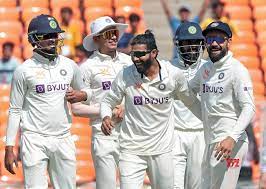 Rivaba Jadeja, the wife of indian cricket team all-rounder ravindra jadeja, won the gujarat assembly general election held at the end of last year by contesting on behalf of the BJP. As gujarat is prime minister Modi's home state, the elections held there had raised great expectations across the country. As everyone expected, bjp formed the government in the gujarat elections with tremendous power. Rivaba Jadeja contested from the Jamnagar North constituency and won by over 84,000 votes. He won with more than 60 percent of the votes cast. Since Jadeja belongs to bjp, he expressed his happiness by sharing a photo with prime minister Modi.

The fourth and final Test between india and australia started on march 10 at the narendra modi Stadium in Ahmedabad. Accordingly, australia played aggressively in its first innings, losing all wickets and adding 480 runs. Khawaja and cameron Green scored centuries on behalf of the Australian team in that innings. It was Green's maiden Test century. Similarly, Ashwin took 6 wickets on behalf of the indian team and also created the record for taking the most wickets (113) against Australia. After that, india started their first innings and showed action. Opener Shubman Gill and virat kohli scored centuries on behalf of the indian team, the indian team scored 571 runs for the loss of 9 wickets and scored 91 runs more than the Australian team. australia then started their second innings with 175 runs for the loss of two wickets, and the fourth Test ended in a draw as both captains agreed to end the match in a draw. With this, it is noteworthy that the indian team won the series by 2-1 in the four-match series.

మరింత సమాచారం తెలుసుకోండి: