Priyanka Chopra - Exploding Truth Bombs...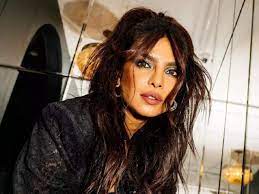 Actress priyanka chopra after achieving tremendous success in Bollywood, the actress has made her place in Hollywood. She is counted among the top celebrities of America. At the same time, during a recent interview, priyanka has spoken openly about the excesses in Bollywood. She has told how she was forced to leave the hindi film industry. At the same time, now priyanka has got the support of cousin meera Chopra on this matter after kangana Ranaut. meera has told how priyanka has slapped Bollywood.
Meera Chopra has shared Kangana's post retweet regarding Priyanka. She wrote- 'No matter how big and successful an outsider becomes, she remains an outsider. They will never stop extorting and harassing you, if you don't follow the rule book. But priyanka has also achieved, she is a slap for those people. 
Earlier kangana ranaut had also posted in support of priyanka and wrote that 'people had started ganging up against her, were bullying her and kicked her out of the film industry. The woman who stood on her own was forced to leave India. Everyone knows that karan johar had banned it. The media covered her fight with karan more because he was good friend of Shah Rukh Khan.
మరింత సమాచారం తెలుసుకోండి: