Christopher is a senior IPS officer with the kerala police who has a history of murdering rape suspects before to trials. Given that the local legal system has consistently delayed the victims' access to justice, he has a sizable social media fan base. One of these incidents, which prompts a departmental investigation into christopher, is the main subject of the film. In this B Unnikrishnan movie, we see what they discover throughout that investigation and what happens to christopher during that probe.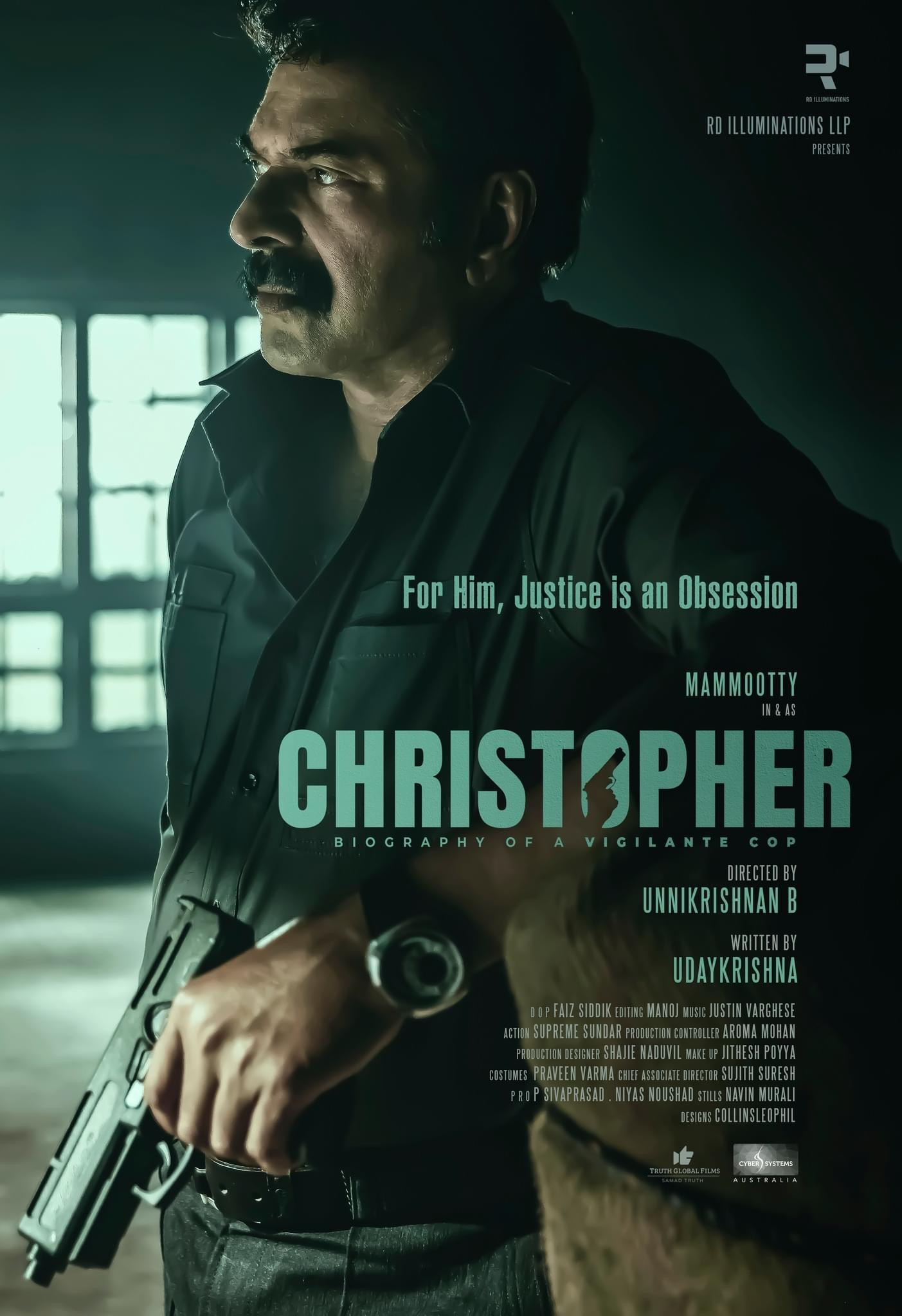 The repeating of identical stories is the main reason why uday Krishna's recent cinema has not been strong. The issue with christopher is also his inability to come up with creative or original ideas. It almost seems as though they are trying to make mammootty the star by having him move slowly and speak simply. And they've created a tired tale of vigilante justice that never makes you feel masala-high or makes you sigh with reflection. In an effort to appease those who simply want to watch the megastar in a lengthy mashup video, they are simply presenting one back story after another. The trend is blatantly obvious, and it is disappointing to watch filmmakers take advantage of a timely subject instead of sensitively addressing it.
Due to the fact that he essentially had nothing to do, mammootty may have approached his job for this film with the mentality of an employee on leave. He only needs to maintain his sense of style in both his gait and the way he carries the rifle. aishwarya Lekshmi and amala paul have parts with comparatively longer screen time. sneha and Dileesh Pothan have smaller screen time but important parts. Shine tom Chacko is shown as a drug addict despite working as a police officer. Vinay Rai has the appearance and demeanor of a merciless adversary who has no sense of regret. However, the lack of depth in the character's development makes his portrayal seem overly theatrical.
B Unnikrishnan still has no idea of visual packaging in terms of craft. You can tell that he is adopting stylization in the Aarattu style, which explicitly employs slow-motion photos and background music. As the primary focus is on making it seem stylish with bolt camera level FPS, the specifics of the events in Christopher's life do not aid the movie in knowing the character any better. I truly believe uday krishna needs to watch some of the popular masala movies. Compared to this instant justice drama, murali Gopy's Lucifer, which likewise had a fairly linear narrative and was shot in anamorphic, was much more compelling. Due to the way they were edited, the action sequences that looked fantastic in the teasers became monotonous and uninteresting in the movie.
Christopher feels like a boring movie rather than a torture.
మరింత సమాచారం తెలుసుకోండి: