Keerthy suresh behaved badly during promotion..!?

Keerthy Suresh's badass act for the promotion of the dasara movie is currently going viral on social media. Keerthy suresh, the leading actress of South India, has many film opportunities in hand now. At first, she was acting modestly, but in the past few days, she has returned to her glamorous roots. Her glamorous photos are taking the youth by storm on social media. In this case, Keerthy suresh acted in the dasara film with actor Nani. Directed by srikanth Odiala, this film is slated to release on march 30 in 5 languages including Tamil, Telugu, Malayalam, Kannada, and Hindi. santhosh narayanan composed the music for the film. Recently, the trailer of this film was released and it received a good response from the fans, and the expectations for the film have also increased.

As the release of the film is just a few days away, the film crew has started promotional activities in major cities of South India. Also during the last day of dasara shooting, actress Keerthy suresh gifted 130 members of the film crew with 10-gram gold coins each. In this case, the promotion program for this film has been held in Mumbai.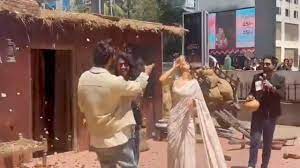 Keerthy suresh, nani, Rana, and others who acted in the film participated in this. Then in the trailer of the film, there is a scene where the actor nani finishes drinking the liquor bottle at the gate without holding it in his hand. Similarly, Keerthy suresh also did a stunning look at Nani's drinking style at a promotion in Mumbai. Photos and videos of her gulping down a bottle and throwing it away are going viral on the internet.
Seeing this, netizens are commenting differently. And many people are condemning Keerthy Suresh's adventurous act as behaving so badly for the promotion of the film.
మరింత సమాచారం తెలుసుకోండి: