YouTuber Irrfan's car collided with a woman's life...!?

Irrfan is a popular YouTuber who has grabbed everyone's attention through social media. He has his famous YouTube channel named Irfan view having more than 35 lakh subscribers. His main job is to go to different places and taste different food and post a video about it. Such a marriage of him was recently held in a very tumultuous manner that no one expected. He made it a program and invited many celebrities to celebrate it very critically. He kept releasing it as a video. When watching those videos, he puts everything in the video. He put the video to the point of cursing. Just tea party is going on, mehendi function, eating, feeding everything is blatantly posted on social media.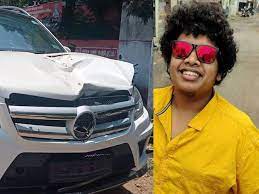 They used to criticize his brothers harshly saying that they could not bear it. He also telecasted the loot he made with his wife and family. Seeing this, he was so angry that he was playing too much. By criticizing him like this, it can be said that he has set his eyes on marriage. Now an old woman has been killed in a collision with his car near Chengalpattu. But it has nothing to do with him, his driver is saying that he did this act.
A life has been sacrificed as a sacrifice for what he screamed while going in the car. Already the first marriage has been interrupted due to some problems. In a way, this sad tragedy has left Irfan reeling as he has just completed his second marriage.

మరింత సమాచారం తెలుసుకోండి: