Health of cheetahs in Kuno National Park deteriorated...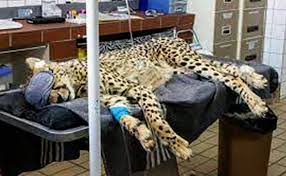 The health of one of the cheetahs present in the Kuno National Park in madhya pradesh has deteriorated. This cheetah has been quarantined after its health deteriorated. The team of doctors has told that due to dehydration, the female leopard has complained of fatigue and weakness. All the other leopards are healthy. The sick female leopard has been kept in a separate enclosure. Now a team of doctors is constantly monitoring his health. Cheetah is being treated. A total of 8 cheetahs were brought from namibia to Kuno National Park.
DFO of Kuno National Park, Prakash Kumar Verma said, 'One out of 8 cheetahs brought from namibia has got kidney infection. Signs of fatigue and weakness were seen in a female cheetah in the morning monitoring. He was moved right away to the isolation area. The name of the female leopard whose condition has gotten worse has been given as Shasha.
Continuous monitoring is being done
He further told, 'When the team of doctors did a health checkup of Cheetah, it was found that there is some problem in the kidney and she has also become a victim of dehydration. He has been kept under the care of medical professionals. Rest of the leopards are healthy. A team of doctors from bhopal has come to Kuno Park with necessary equipment. It was told that the doctor treating the cheetah in Kuno is also in constant contact with wildlife experts from namibia and South Africa.
మరింత సమాచారం తెలుసుకోండి: