Budget 2023: All eyes on Nirmala Sitharaman's budget...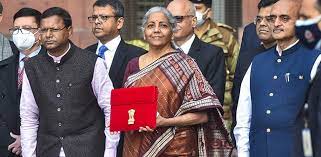 Finance minister Nirmala Sitharam will present her 5th Union Budget on february 1, 2023 along with the rail Budget on the floor of the Parliament. This budget is the last full budget of the Modi government, so the eyes of the whole country are fixed on it. The next parliamentary elections are due in April-May 2024. There is a section which is in the hope that this budget can be populist. Like last time, this time also the budget is going paperless. Let us understand what are the expectations from the Union Budget 2023-24.
The nation's citizens have great hopes for the Union Budget 2023–2024, as they do each year. This budget is like a test for the narendra modi government before the lok sabha elections in 2024. From the common man to the farmer, we are watching this budget with hope.
The budget is expected to meet four key goals.
1. The income tax exemption ceiling on income up to Rs 2.5 lakh might be raised from Rs 2.5 lakh to Rs 3.5 lakh under the new tax system.
2. Section 80C of the Income Tax Code allows for an increase in the Rs. 1.5 lakh exemption threshold.
3. For the salaried class, the standard deduction ceiling of Rs 50,000 can be extended to Rs 75,000 under Section 16(IA) of the Income Tax Act.
4. The current cap for section 80D health insurance claims is Rs 25,000. 
The government may raise it to Rs 50,000 in current budget.
What else will be special in the budget?
Further in this year's budget, it is expected that there can be a big announcement related to electric vehicles. It is expected that in this year's Union Budget, interest-free loan schemes will come on the purchase of electric vehicles. This can be extended from march 2023 to 2025. GST on car charger can be reduced from 18 per cent to 5 per cent.
మరింత సమాచారం తెలుసుకోండి: