Ambati Rayudu's Final IPl tonight- Announces Retirement!!!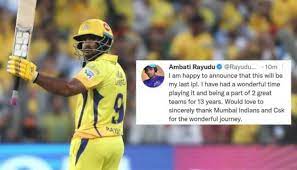 Ambati Rayudu, the standout batsman for chennai Super Kings, announced his retirement from the indian Premier League on Sunday, indicating that the final versus gujarat Titans of the 2023 season will be his final game in the competition. Rayudu, a member of the CSK since 2018, won two championships with the team after starting his IPL career in 2010 with the mumbai Indians.
"204 games, 14 seasons, 11 playoff rounds, 8 championship games, and 5 trophies.possibly sixth tonight. It has been a long road. I've made the decision that tonight's championship game will be my last in the Ipl. I have had a great time competing in this fantastic tournament. Thank to everybody. Rayudu posted on his official social media page," No, u-turn.
When the mumbai Indians won the championship in 2013, Rayudu had his first tournament success. It was the franchise's first championship as well. The batter participated in every game of the season and went on to win two additional championships in 2015 and 2017 before joining CSK the following year.
Rayudu has had mediocre bat performances in 2023, but he has kept MS Dhoni's trust by participating in each of the 15 games so far. He has a strike rate of 132.28 and 139 runs scored so far this season.
మరింత సమాచారం తెలుసుకోండి: