Odisha train Accident: Jr NTR,Salman expressed grief...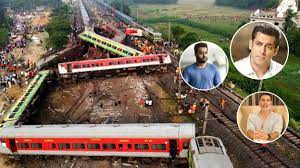 The horrific odisha train disaster has shocked and grieved the entire nation. The accident occurred on june 2 at around 7 p.m. in the Balasore region of odisha, close to the Bahanaga Baazar station. The Shalimar-Chennai Central Coromandel Express, the freight train, and the Bengaluru-Howrah Superfast Express were all involved in the three-train collision. Over 200 people have perished as a result of the catastrophe so far, and 900 more have reportedly been hurt.
Several movie stars posted on their separate social media accounts today to express their sorrow and lament the death of those who perished in the train disaster. salman khan prayed for the victims and posted on Twitter, "Really heartbroken by hearing abt the crash, let god rest the souls of the deceased in peace, Protect n give courage to the family and those who suffered from this unfortunate accident."
I was extremely saddened to hear of the disaster. May god have mercy on the families and the injured as well as grant peace and comfort to the souls of the deceased.
Jr. ntr also conveyed his sorrow over the unfortunate tragedy to the families and loved ones who were impacted by the tragic train accident. I am thinking of everyone who has been impacted by this terrible event. May they be surrounded by strength and assistance during this trying time.
మరింత సమాచారం తెలుసుకోండి: