Google Doodle celebrating Kitty O'Neil!!!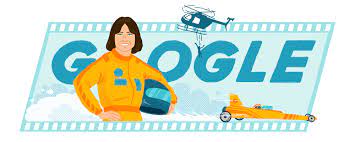 O'Neil, who has been deaf since infancy, overcame her disability to become "the world's fastest woman."
Kitty O'Neil overcame losing her hearing as an infant long before she became a renowned stunt performer and record-setting daredevil. She frequently referred to her impairment as an asset rather than a hindrance to success because it allowed her to concentrate on her duties as she worked toward becoming "the world's fastest woman." 
On her 77th birthday on Friday, google devoted its Doodle to O'Neil, highlighting the role model she developed.
O'Neil was born on march 24, 1946, in Corpus Christi, Texas, and was just 5 months old when she was afflicted with the measles, mumps, and small pox. She became deaf as a result of the circumstances, which raised her fever. Instead of using sign language, O'Neil's Cherokee mother trained her to speak and lip-read. 
O'Neil started participating as a platform diver when he was a teenager and was expected to make the 1964 Olympic team before suffering a wrist injury and a case of spinal meningitis. In 1982, O'Neil stopped conducting stunts after a number of her coworkers were killed on stage. She had 22 speed records at the moment. At the age of 72, O'Neil passed away from influenza in 2018.
మరింత సమాచారం తెలుసుకోండి: