Special messages on Republic Day!!!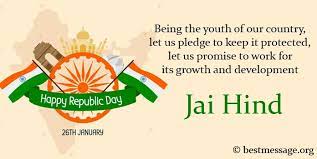 Happy Republic Day 2023 Quotes: Republic Day is observed annually on january 26 because it marks the effective date of our nation's constitution, which was adopted on this day in 1950.
For indian people, 26th january is not a date but a festival. This is the day celebrated as our national festival. On 26 january, the whole country celebrates the festival of Republic Day. Republic Day or Republic Day is celebrated on 26 january because, on this day in the year 1950, the constitution of our country came into force. people of all religions, castes and religions of the country celebrate this festival together.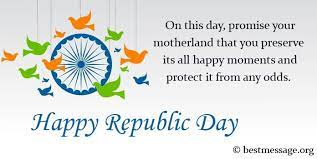 On this day every one wishes each other Happy Republic Day. Only few hours are left for Republic Day 2023 to arrive. So today we are going to tell you about the special patriotic message (Happy Republic Day 2023 Quotes) of Happy Republic Day, by sending which you can congratulate your special and loved ones.
Congratulate Republic Day with a special patriotic message
Let's remember that scene again today,
Recall the flame that burned in the martyrs' hearts, 
flowing in the direction of liberation.
remember that stream of patriots' blood
Happy Republic Day 2023
My country has its own identity,
Here, there are some Muslims and some Hindus,
praise it less
Because this is our India.
Happy Republic Day 2023
wake yourself up again
swing the baton of discipline again
remember the sacrifice of those brave
because of this we celebrate republic day
Happy Republic Day 2023
Sometimes chill in the cold and see,
Try burning in the hot sun sometimes,
How is the country protected?
take a walk on the border
Hail India, Hail India
Happy Republic Day 2023
Our nation is also something we love and respect
We continue to harbour the longing that continues nagging at our hearts
Happy Republic Day 2023
Patriots are the pride of the country
The country is respected only by the patriots
we are the flowers of that country
The country whose name is Hindustan
Happy Republic Day 2023
మరింత సమాచారం తెలుసుకోండి: