Fast-spreading HMPV virus is the next threat..!?

The HMPV virus that is circulating in the united states is causing fever and lung infections among patients. Last winter, respiratory viruses like RSV and Corona spread rapidly and caused panic among people. But this summer, a virus spreading in the U.S. is causing fever and lung infections among patients. Human metapneumovirus or HMPV is the cause of this infection. The US Centers for Disease Control and Prevention has warned that the number of HMPV cases has increased this spring. In March, about 11% of the samples tested were positive for HMPV. And the virus is the second most common cause of respiratory infections in children.

Description of HMPV virus:

Human metapneumovirus can cause respiratory illness regardless of age, especially in young children, the elderly, and people with weakened immune systems. Currently, young children and the elderly have been admitted to intensive care units in hospitals due to the virus.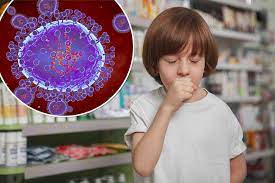 What effect?
People infected with this virus can develop bronchitis or even pneumonia. The virus is contagious for 3-6 days. And the average duration of the illness varies by severity but is similar to other respiratory infections caused by viruses, according to the Centers for Disease Control.

How is it spread?

The HMPV virus is likely to spread from an infected person to others through close personal contact, such as coughing, sneezing, touching or shaking hands, and touching objects or surfaces that have the virus on them.

What is the treatment?
Unlike corona or influenza, there is no specific antiviral therapy to treat HMPV. There is no vaccine to prevent HMPV. Instead, doctors can treat seriously ill patients according to their symptoms.

How to prevent it?

Precautions against the virus include washing hands, avoiding frequent touching of the eyes, nose, or mouth, and avoiding close contact with people who are sick.

A study conducted over four winters in New York found that the HMPV virus was as common in elderly patients hospitalized as respiratory infections and influenza. Doctors say it is also responsible for the fatal cases of pneumonia in the elderly.

మరింత సమాచారం తెలుసుకోండి: