Hindu Organizations protesting against Pathaan..!?
In various cities across the country, Hindu organizations are protesting against the film Pathaan by burning posters. The film is currently released on over 5000 screens in
india
and over 2500 screens overseas. Earlier, the song Besharam Rang, featured in the film, caused a lot of protests as actress
deepika padukone
was seen wearing a saffron bikini. Due to this, Hindu organizations have been constantly calling for the film to be boycotted.
In spite of that, as the film has been released today, Hindu organizations are protesting by burning
posters
in various cities across the country.
vishwa
Hindu Parishad and Bajrang Dal organized a protest in front of the
theater
in Barwani, Madhya Pradesh, against Shah Rukh Khan's film Pathan. Apart from that, they tore the
posters
of the film outside the
theater
and set them on fire.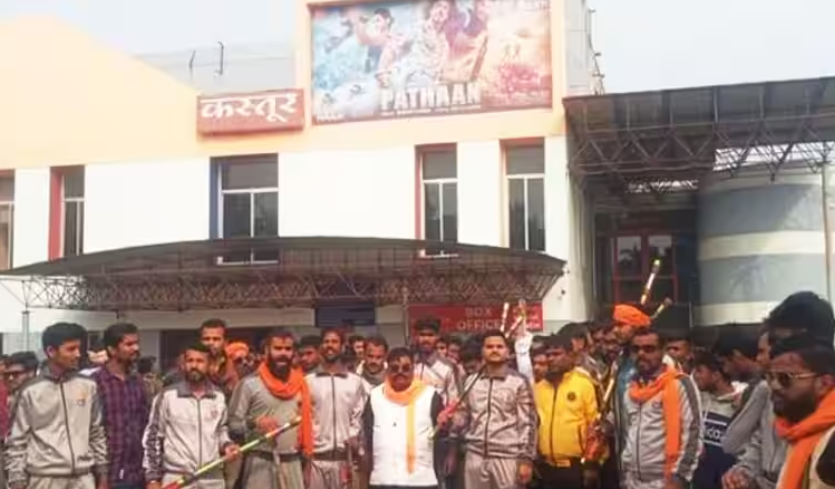 Hindu organizations also protested in theaters in Indore. Before the screening of Pathaan at DD Mall in Gwalior, Bajrang Dal organizers protested the film with slogans of
jai
Shri Ram. After the Bajrang Dal organization announced that it will hold a protest against the film Pathaan, theaters in
mumbai
have been heavily guarded by police. A protest against the screening of the film Pathaan was also held in Kalaburki, Karnataka. Protesters raised slogans against the film Pathaan and against Shah Rukh Khan outside the Shetty
theater
there. Hence, heavy
police
security has been provided to the theaters there.
మరింత సమాచారం తెలుసుకోండి: