Kokilaben Ambani wore grandson Anmol's turmeric 'Patola' saree worth 1.5 lakhs, knows the specialty
Here we are going to tell you about the 'Patola' saree of Kokilaben Ambani, the head of the Ambani family, which she wore in her grandson Anmol Ambani's turmeric ceremony.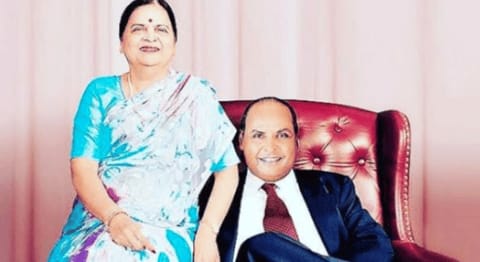 Ambani family is one of the richest families in Asia and every member of this family comes into the limelight for one reason or the other. The Ambani family also garners a lot of headlines for their functions and when it comes to the look of the women in the family, it is not only luxurious and expensive but is also associated with cultural heritage and traditional roots. Kokilaben Ambani, the wife of the late Dhirubhai Ambani, tops the list, winning our hearts with her traditional look at every family function.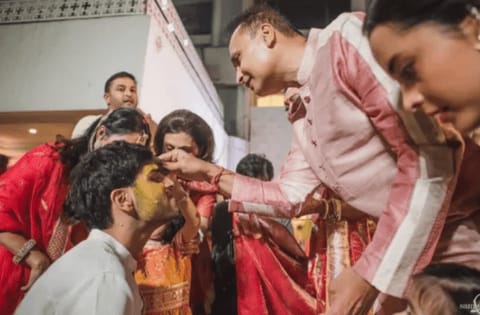 Kokilaben Ambani wore a 'Patola' saree at grandson Anmol's pre-wedding celebration. anil ambani and Tina Ambani's elder son jai Anmol Ambani married his girlfriend Krisha Shah on 20 february 2022. At this wedding, every member of the Ambani family was seen in their best and super-rich look, but the look of Kokilaben Ambani, the grandmother of the groom and the head of the Ambani family, caught our eye.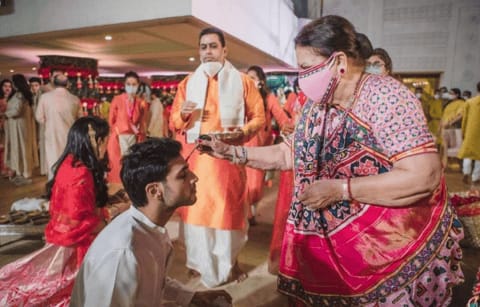 In fact, in a picture from Anmol's haldi ceremony, Kokilaben Ambani can be seen applying tilak on her grandson's forehead. Grandma Kokilaben wore a pink printed saree for the event, which she styled with a matching mask. On the other hand, Anmol Ambani was dressed in a white kurta-pajama and was taking blessings from his grandmother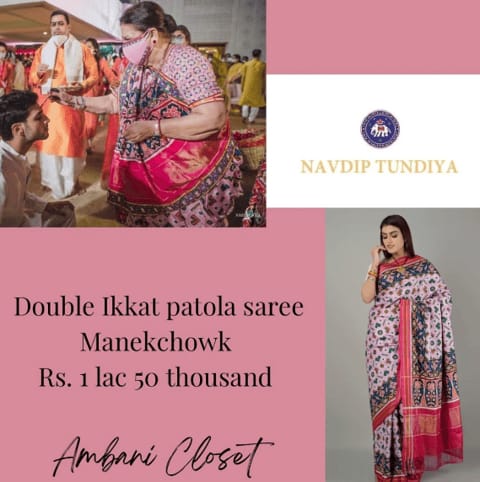 Kokilaben Ambani's saree costs Rs 1.5 lakh. Talking about Kokilaben's outfit, her 'Patola Double Ikkat' saree was from designer navdeep Tundia's collection. However, it was the cost of her saree that shocked us. According to the information, the cost of this saree of Kokilaben is 1 lakh 50 thousand rupees. 
Kokilaben Ambani repeated her saree at her grandson Anmol's wedding. Also, we came across a picture of Kokilaben Ambani from Anmol's wedding where she was seen in a beautiful pink saree with pearls and stone embroidery. However, it was later learned that she had styled this saree earlier as well.
An insta fan page of the Ambani family had shared that Kokilaben had earlier worn this saree at arjun Kothari's pre-wedding celebration. However, this time she restyled her look professionally and opted for a statement emerald and diamond neckpiece to complement her look
మరింత సమాచారం తెలుసుకోండి: