Mukesh Ambani took care of pregnant 'daughter-in-law' Shloka Mehta, a cute gesture of 'father-in-law' seen in the temple
A video of veteran businessman mukesh ambani helping his pregnant daughter-in-law Shloka Mehta is going viral on the internet. Let us show you.
Shloka Mehta, the wife of businessman akash Ambani, is pregnant for the second time. Before delivery, Shloka is visiting temples with her father-in-law mukesh ambani and husband akash Ambani. Recently, we came across an adorable video of mukesh ambani helping his daughter-in-law Shloka Mehta at the Babulnath temple. Shloka looked lovely during this as she was seen flaunting her full-grown baby bump in a cotton co-ord set.
Mother-in-law Shloka Mehta got help from father-in-law mukesh ambani in the temple 
In a video that is trending on the internet, we can see Shloka coming out of the Babulnath temple with her father-in-law mukesh Ambani. As soon as they came out of the temple, mukesh held her hand and was seen taking care of his daughter-in-law Shloka. We also saw akash Ambani following him. The adorable video shows their immense love and the way the Ambani family treats their daughter-in-law like a daughter.
When Shloka Mehta visited Siddhivinayak with her father-in-law, husband, and son
Earlier, on May 21, 2023, the Ambani family was seen coming out of the siddhivinayak temple premises after having the darshan of Ganpati Bappa. In the video that surfaced, mukesh ambani was moving forward with his two-year-old grandson prithvi Ambani in his lap. On the other hand, pregnant Shloka Mehta was behind them. She was looking very beautiful in pink color flowy kurta. akash also accompanied them and looked smart in casual shorts and a contrasting T-shirt.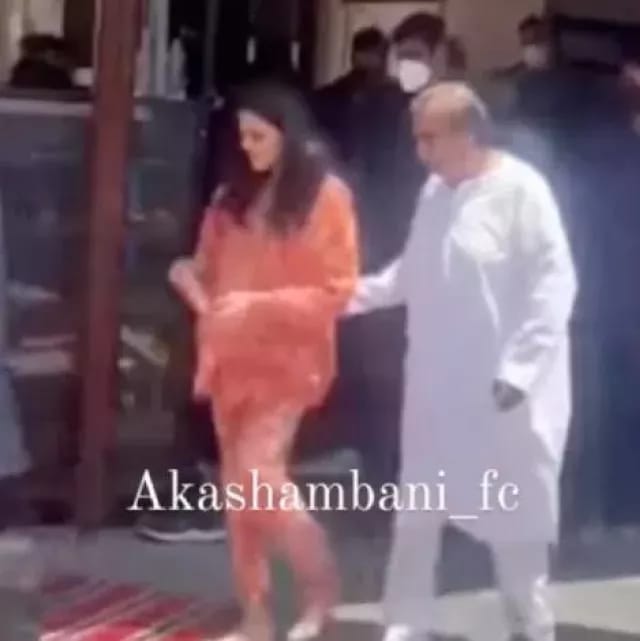 When mukesh ambani protected pregnant daughter-in-law Shloka Mehta while posing for paparazzi 
Sometime back, we had a glimpse of mukesh ambani protecting Shloka during the launch of 'NMACC'. In a video shared by the paparazzi, mukesh ambani posed for pictures holding his daughter-in-law Shloka Mehta's hand. Akash Ambani was also standing right next to his pregnant wife Shloka. All three were looking very cute. We also saw mukesh having a candid conversation with Shloka and she was laughing out loud. It was a picture-perfect moment for the family. At the moment, we are a fan of the way mukesh ambani treats his daughter-in-law Shloka Mehta like his own daughter.
మరింత సమాచారం తెలుసుకోండి: