Shruti Haasan biting her boyfriend's cheeks..!?

Shruti Haasan is one of the star heroines of Tollywood. Not only in tollywood but in all industries, she has made a name for herself. She is not only an actress but also multi-talented. The singer also showed her prowess to everyone. Recently, she received two consecutive blockbusters in Tollywood. Even though both were released at the same time, shruti became a golden leg as Veerasimha reddy Waltheru Veeraiyalu became a hit. Apart from this, it is known that shruti is currently in love. For the past two years, shruti has been dating a doodle artist named Shantanu Hazarika. Both of them have been living together for a long time. They are meeting in mumbai by taking an off-flat. She also keeps sharing photos with her boyfriend from time to time.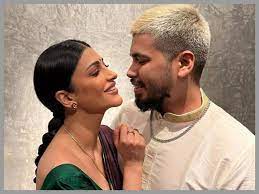 Recently, shruti went to her favorite city with her boyfriend Shantanu. Her favorite city is london and she enjoys it with Shantanu. She shared the related videos on her instagram story. She is clearly delighted to have gone there. Shantanu is making a fuss by biting her cheeks. Moreover, it is remarkable that she is enjoying herself roaming the streets.
Meanwhile, shruti haasan is currently acting in the movie 'Salaar'. prabhas is the hero in this movie and prashant Neel is directing this movie. The trailer of this movie will be released on june 16 and the movie is likely to hit the screens in september this year. shruti has high hopes for this movie. prabhas fans also have high hopes for this movie. prashant Neil's next film after KGF, fans are waiting to see how he will portray Prabhas.

మరింత సమాచారం తెలుసుకోండి: