Shocking Run Time -Adipurush: GREEN Flag from Censor!!!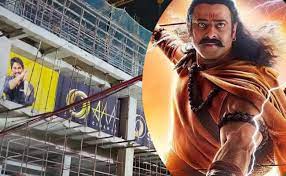 Adipurush's countdown has begun, and although though the movie already has good word of mouth, it is only growing stronger every day. In reality, the adoration that Adipurush, which was produced by bhushan kumar and directed by Om Raut, is receiving, attests to the film's particular place in every Indian's heart. With the censor board's U-Certificate, the movie is now known as HAR BHARTIYA KI ADIPURUSH!
One can readily conclude from the teaser and the songs that the prabhas and Kriti starrer is not just intended for amusement. Additionally, it's a lovely method to teach and inform the younger generations about a crucial element of indian mythology. Om Raut's film not only exemplifies visual splendour but also highlights the essence of indian heritage, the foundations of love, loyalty, and devotion. It has so many subtexts that are likely to inspire viewers. Since the movie has now been formally acknowledged as belonging to every Bhartiya, Prabhu Ram's divinity will be fully celebrated.
Trade expert Taran adarsh revealed the length of the movie in a separate post on his twitter account. He tweeted, "#Xclusiv... 'ADIPURUSH' *HINDI* RUN TIME... The CBFC recognised #Adipurush hindi on june 8, 2023 as "U." Duration: 2 hours, 59 minutes, and 00 seconds, or 179.00 min. #India."
మరింత సమాచారం తెలుసుకోండి: