Salary of lokesh in his first film..!? Open Talk..!

Lokesh kanagaraj, who is a leading director in the tamil film industry, emerged as a star director after the success of Vikram. While many leading actors want to act in his direction, Thalapathy is next to direct Vijay. master has already been released under his direction and become a hit. There is a huge expectation that this alliance will ally again in the next film.
Even after asking lokesh kanagaraj for an update many times, he said that only the production company will give the complete update. Even though lokesh kanagaraj said that he cannot give Thalapathy 67 updates, wherever he goes, fans hear only Thalapathy 67 updates. While we can expect the announcement of Thalapathy 67 soon, lokesh Kanagaraju's salary is said to be the highest ever.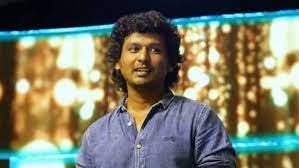 Since all his films from Maanagaram to vikram have become blockbuster hits, he is also said to have increased his salary. In this case, director lokesh kanagaraj has spoken openly about the salary given to him in his first film. In that interview, he said that he was paid 5 lakh rupees for the first film he directed, and he got 4.50 lakh rupees after TDS.
మరింత సమాచారం తెలుసుకోండి: