Nita Ambani was seen holding her granddaughter, a baby girl seen in a pink swaddle, family welcomed her grandly
The Ambani family got together to welcome a new member of the family, the daughter of akash Ambani and Shloka Mehta. 
The Ambani family is currently on cloud nine as akash Ambani and Shloka Mehta have become parents for the second time. The couple was blessed with a baby girl on 31st May 2023 and they are overjoyed. Now the entire Ambani family reached the hospital to welcome their darling. Please tell that Shloka Mehta announced her pregnancy on the occasion of the grand launch of 'Neeta mukesh ambani Cultural Centre'.
Nita Ambani welcomed her granddaughter, who looked very happy
On 3 june 2023, a paparazzi account shared several glimpses from outside the hospital on its instagram handle, in which the entire Ambani family can be seen. In the pictures, the entire Ambani family can be seen heading back home to give a grand welcome to their little munchkin. However, it was Grandmother Nita Ambani's picture that caught our attention. In the picture, she can be seen holding baby girl Akash. She looked very happy in the printed outfit. On the other hand, she was wrapping her baby girl in a light pink colored swaddle.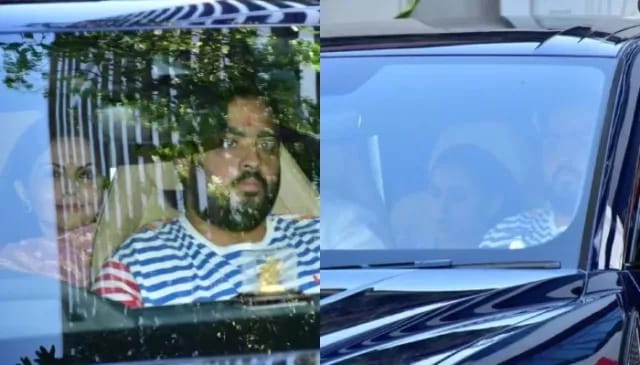 In another picture, the doting grandfather mukesh ambani was seen flashing his sweet smile. He was also clicked by the paparazzi stationed outside the hospital in his camera. We also got a glimpse of parents Akash-Shalaka. Shloka and akash looked lovely together, looking excited to welcome their little one into their home.
Mukesh Ambani and his grandson prithvi were spotted at Shloka Mehta's house
Earlier, we also saw some glimpses from outside Shloka Mehta's house. In the pictures shared by the paparazzi on social media, we can see mukesh ambani holding his grandson prithvi in his arms. Both had reached Shloka's house. When the paparazzi spotted them, they were accompanied by Shloka's mother Mona Mehta.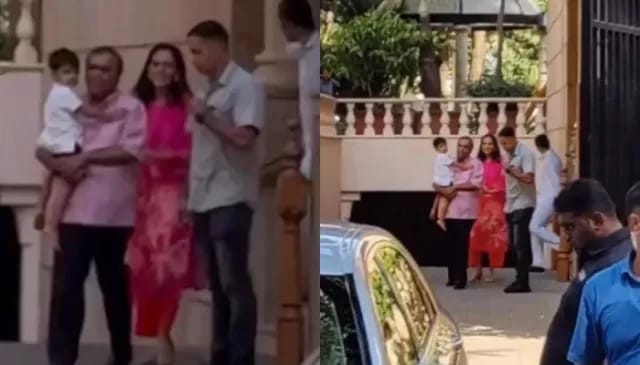 Shloka Mehta's house decorated to welcome the little angel
In other glimpses, we can see some people carrying lots of pink, golden, and lavender colored balloons in a big transparent poly bag. Several patterns were made by gluing the balloons together and they looked beautiful. Shloka Mehta's family was preparing for the arrival of their little princess at their house, which has been decorated with balloons and flowers.
When did prithvi Ambani become his elder brother?
Let us inform you that on 31 May 2023, akash Ambani and his wife Shloka Mehta were blessed with a baby girl as their second child. While there was no official announcement from the Ambani family, a paparazzi page shared the good news on social media. The entire Ambani family is beaming with happiness at this time. Not only this, akash and Shloka's two-year-old son prithvi has also become a brother with the birth of his sister.
మరింత సమాచారం తెలుసుకోండి: