Shocking-Amritpal Singh: Jacket with AKF mark recovered...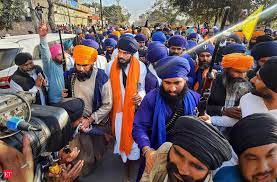 Police are conducting raids to arrest Khalistani supporter Amritpal Singh. The punjab police continued the search operation for the second day in search of the head of Waris punjab De. Meanwhile, the police have made shocking claims. According to the police, Amritpal Singh was using de-addiction centres and a gurudwara to store weapons and prepare youths for suicide attacks. AKF-marked jackets have been recovered from his house during the raid.
With the assistance of different security agencies, a dossier—a file containing comprehensive information on a person, an occasion, or a subject—is created. It claimed that Amritapal Singh was primarily involved in grooming youths to become fighters or human bombs. Amritpal returned to india from dubai last year allegedly at the behest of Pakistan's intelligence agency ISI and Khalistan sympathizers living abroad. The self-styled fundamentalist preacher has been absconding since the action taken by the punjab government on saturday against his organization 'Waris punjab De'.
AKF marked jacket recovered
78 members of the group were detained by punjab police as a result of this action. Experts and officials who are keeping an eye on the situation in punjab claim that Pakistan, which is going through its worst economic crisis, is doing everything it can to draw focus away from india by energizing its citizens like Amritpal Singh. He was forced to accept defeat in each battle waged against India. Arms and ammunition brought to the purported Anandpur Khalsa Front (AKF), which Amritpal founded, have been confiscated during the case inquiry. 
మరింత సమాచారం తెలుసుకోండి: