Khalistani supporters pulled down indian Flag in London-P1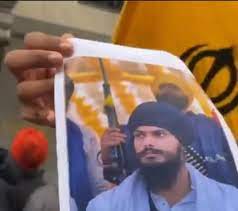 On Sunday, a group of pro-Khalistan protesters grabbed the national flag of india floating atop the mission in london while waving separatist flags and chanting pro-Khalistani phrases. This violent disorder resulted in an arrest connected to the disorder. Pro-Khalistani demonstrator tearing down the flag.
On the one hand, Khalistan supporter Amritpal Singh has been declared a fugitive by the police in India. In contrast, advocates of Khalistan held a protest outside the indian High Commission in London. Fundamentalists attempted to lower the tricolor, the indian flag, during the protest on Sunday. Additionally, the incident's footage has come to light. india has expressed strong displeasure over this act and has summoned the british ambassador on the issue of security. During the protest outside the indian High Commission, these people were raising objectionable slogans and were also abusing them.
India's Foreign Ministry said in its statement that india has got to see the UK government's indifference to the security of indian diplomatic premises and employees in Britain, which cannot be accepted. Sources said british Deputy High Commissioner Christina Scott was summoned to the Ministry of External Affairs in view of the incident as High Commissioner alex Ellis is out of Delhi.
మరింత సమాచారం తెలుసుకోండి: