Amritpal Singh, a supporter of Khalistan subject to NSA-P1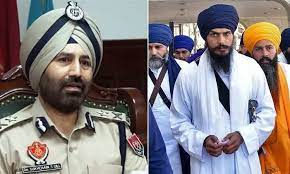 The noose is fast tightening on Khalistani extremist Amritpal Singh. punjab police has also detained Amritpal under the National Security Act (NSA). He already has a non-bailable order out for his arrest. The police have also identified those people who helped Amritpal Singh to escape. The police also seized the Brezza car in which Amritpal Singh was riding after getting down from the Mercedes to dodge the police. Videos of changing vehicles during his absconding have also come into the hands of the police. punjab police IG Sukhchain Singh Gill has claimed that Amritpal Singh can be arrested at any moment.
Let us know in 5 points what the punjab police has told-
1. Videos surfaced during the absconding, car recovered
CCTV footage of Jalandhar's Shahkot is in the hands of the police, in which Amritpal Singh is seen getting down from the Mercedes car and boarding a Brezza car. When the police started raiding, Amritpal fled in the Mercedes itself. This Brezza car belongs to an associate of Amritpal. Inside this car, Amritpal took off his cloak and wore a pant shirt so that he could not be recognized in the new disguise at all. After this, he fled from there along with 3 people riding on two motorcycles. IG punjab police Sukhchain Singh Gill said that this Brezza car has been seized by the police. The four people who helped Amritpal Singh have also been identified.
To be continued on part 2...
మరింత సమాచారం తెలుసుకోండి: