Amritpal Singh, a supporter of Khalistan subject to NSA-P3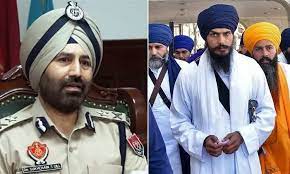 Amritpal Singh, a pro-Khalistani leader, was captured on CCTV footage tuesday in punjab passing a toll booth. Amritpal reportedly drove a variety of vehicles when he fled, but surveillance video showed him driving a maruti Suzuki Brezza SUV. Amritpal allegedly fled on a bike, according to the police, who also published some of his photos to aid in his identification.
Continuation of part 2...
3. police has released possible pictures of Amritpal
The punjab police suspects that Amritpal Singh, the absconding chief of 'Waris punjab De', may disguise himself and run away abroad. For this reason, some pictures of her with different looks have been released. IG police Gill said, releasing some pictures of Amritpal Singh. I request you to show them so that people can help us in arresting them.
4. 4 people arrested for helping Amritpal escape
IG Gill said that the four people who helped Amritpal Singh to escape have also been identified. Manpreet Singh, Gurdeep Singh, Harpreet Singh, and Gurpesh Singh are their names. All four have been arrested. A case of Arms Act and escape of the accused from police custody has been registered against them.
5. 154 people in custody so far, 12 weapons recovered
IG Gill told that so far 154 people have been taken into custody in this case. 12 weapons have been recovered from these people, including 2 rifles. According to IG Gill, the situation in punjab is completely peaceful. No one has been taken into illegal custody nor will be taken further.
మరింత సమాచారం తెలుసుకోండి: