Karnataka buddha art is presented by PM Modi to japan PM...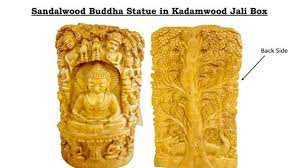 A picture of the Sandalwood buddha Statue from karnataka was presented to the Japanese PM Fumio Kishida on monday by prime minister Narendra Modi in a Kadamwood Jali box. According to officials, prime minister Narendra Modi gave his Japanese colleague Fumio Kishida, who is in india for a state visit, a sandalwood buddha statue enclosed in a "kadamwood jali box" on Monday.
The artwork is linked to Karnataka's illustrious past. Officials stated that intricate designs are carved into blocks of fragrant sandalwood to create intricate sculptures, figurines, and other decorative items. Sandalwood carving is an exquisite and ancient craft that has been practiced in the southern indian state for centuries.
India's native sandalwood tree (Santalum album), which is regarded as one of the most expensive and prized woods in the world, has long played a significant role in indian society. To honor foreign dignitaries, prime minister Modi has made it a point to give them presents that showcase the diverse cultural and artistic riches of India's states and regions.
The buddha statue was carved by skilled artisans using pure sandalwood and features traditional patterns as well as images from nature. According to the authorities, buddha is seated like this in the Dhyana mudra beneath the Bodhi tree.
According to them, the Dhyana mudra represents the condition of meditation, focus on moral principles, and attainment of spiritual perfection. The designs on the exclusive kadamwood box are hand carved by skilled craftsmen in the most synchronized way, according to the officials. Kadambawood is regarded as auspicious in indian culture. One of ayurveda's most revered plants is indian sandalwood. They pointed out that while sandalwood powder and essential oil are well known for their numerous therapeutic and spiritual applications, the wood itself can be used in a variety of ways to work miracles.
మరింత సమాచారం తెలుసుకోండి: