According to BRS MLC K Kavitha, the State administration, which is headed by chief minister K Chandrashekhar Rao, continues to place high importance on protecting the welfare and security of women in the State. She compared the police force to the three lions on the indian state crest and the chief minister to the invisible fourth lion that serves as their quiet leader and source of empowerment.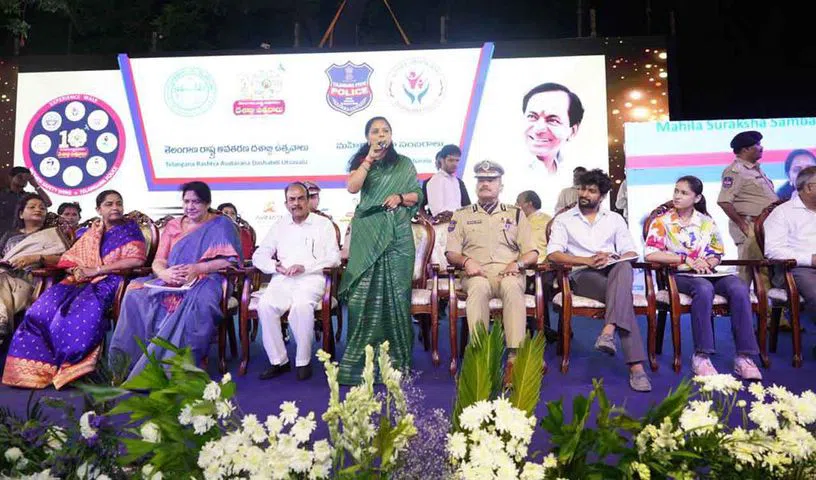 Kavitha said Chandrashekhar Rao took charge of women's safety and welfare and formed 'She Teams' shortly after the telangana State formation. She was taking part in the celebrations for women's safety held by the home Department as part of the telangana State Formation Day celebrations at Tank Bund here on Sunday. These teams have become role models for other States and conveyed a clear message that disrespect for women would not be allowed. As a result, similar programs have been launched in 18 states.

Kavitha said that telangana has experienced nine years of calm without a single curfew or communal violence, in contrast to the worries expressed during the State's creation. According to her, the state has grown on many fronts thanks to the considerable investments drawn by the extraordinary protection the police have delivered. She emphasized that Telangana's quick police reaction allows women to comfortably cross streets even at midnight. When someone calls the emergency hotline number 100 in Hyderabad, the police come within seven minutes, whereas they take 14 minutes to reach the victims in rural regions. In the name of the general people, kavitha thanked the police for their outstanding assistance.





మరింత సమాచారం తెలుసుకోండి: